Senor Peppers Premium Beef Jerky
"Great tasting beef jerky with flavors that will not disappoint." No msg, No preservatives and No nitrates.
Made in Austin, Texas by Chris Thompson…
Our Flavors:
Original, Peppered, Habanero and Dill Pickle
About Us:
Austin, Texas based all natural craft beef jerky brand. Check us out on Etsy
Social Media:
FaceBook/senorpeppersofficial – Instagram/senor_peppers_official
Best Beef Jerky Review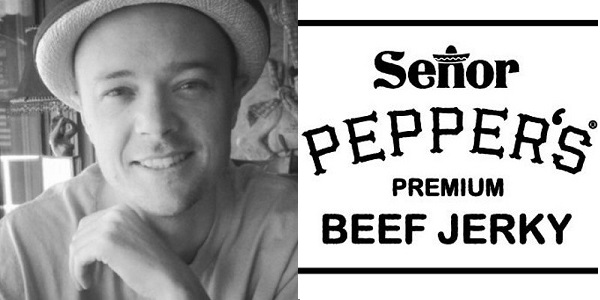 Chris Thompson the founder of Senor Pepper's Premium Beef Jerky!
Vans World Video Review: Habanero Beef jerky
The Senor Peppers sent me Habanero Beef Jerky to review.  Wow, what an awesome guy to send some jerky my way.  And buying on ETSY is like having Beef Jerky Near Me! I wish he made Beef Jerky Sticks! Its Homemade Beef Jerky For Sale on Etsy!  Welcome to the History Of Beef Jerky. Beef jerky started from regular joes just like Senor Peppers! Also we love the texture it has…
Stop by his shop on Etsy and pick up some great jerky from a great guy. Here is the link to his Etsy store:  https://www.etsy.com/shop/SenorPeppers
---
Because Variety Is The Spice Of Life!
About Us – Jerky Brands – By state – Canada – Add My Company – Jerky of the month
Jerky Up – Advertise – Contact Us – privacy policy – Box 534 – Show Low – Arizona – 85902