It's Jerky Y 'all – Plant-based, Vegan, Vegetarian, Gluten-free Jerky
It's made right here in Texas, in three flavors inspired by our great state and four more flavors in the works.  One taste and you'll see the best jerky on the planet is plant based. It's Jerky Y'All
Our Flavors: It's Jerky Y'all 
Black Pepper & Sea Salt – Prickly Pear Teriyaki – Prickly Pear Chipotle
About Us:
Our clean recipes feature plants special to Texas, from the prickly pear to the pecan to the chipotle pepper. Try them all and find a fave — they're sure to have you whoopin' and a hollerin' for more.
Retail Location:
Contact Us:
All Y'alls Foods – 11450 US Hwy 380 STE 130 #129 – Cross Roads, TX 76227
Social Media:
FaceBook/itsjerkyyall  – Instagram/its.jerky.yall
Best Beef Jerky Review – It's Jerky Y 'all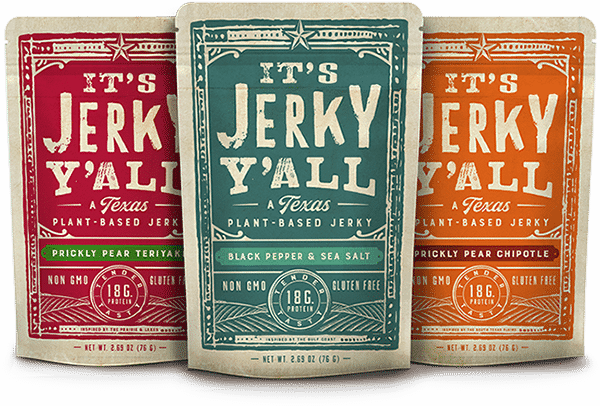 ---
Because Variety Is The Spice Of Life!
About Us – Jerky Brands – By state – Canada – Add My Company – Jerky of the month
Jerky Up – Advertise – Contact Us – privacy policy – Box 534 – Show Low – Arizona – 85902