Smokehouse Jerky co & Oregon Trail Jerky
Video Review of Smokehouse Jerky & Oregon Trail Jerky
Welcome to the Jerky Wrangler: smokehouse jerky
Today what we're doing is, we're in a nice place and we're going to review two jerkies that we found, that have the same flavor, they're both the cracked pepper variety. Now, one here is Smokehouse Jerky company, which uses a brisket for their cut of meat. The other is the Oregon Trail company and they don't use a brisket, but it's also the black pepper. We're going to compare the difference between the two.
I want to show you a piece of the Oregon Trail here. Now, the Oregon Trail, because it's not the brisket meat that they used, you can see that it's a slab. So, they cut these large slab pieces and dried them up, so it's a slab-type jerky. It's a dry jerky and it's got the cracked pepper on there. In tasting it though, this jerky really reminded me of when you're sitting down to a nice big steak, it had that kind of flavor. Now, it takes a little more chewing because it's a slab, but it's still good, it just requires a little bit more chewing on that.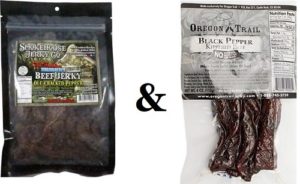 One of the ingredients in here that I think helped out that flavor to kind be like sitting down to a steak dinner, is they have Worcestershire Sauce and they also have some liquid smoke. Plus, with the soy and teriyaki sauce, pretty much the standard everybody uses for the most part. But, with the addition of the Worcestershire, it gives you that little bit of a different flavor. This is a really good jerky. I want to give this one, I'm going to say, because again, look at the cuts of meat, imagine doing it yourself. These guys easily score a nine on a scale of one to ten and probably even a ten, if you don't mind it being a little bit thicker, it's a thick cut. When they cut this meat before it was dried, wow. It must have been a good quarter inch thick slice of meat, because even right now, it's got some good thickness to it. So, this is a thicker meat and I give these guys, Oregon Trail, I give them a solid nine, maybe even a ten if you don't mind a little extra chewing. So, Oregon Trail, you did a good job.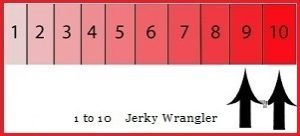 All right, now here we're trying out the Smokehouse jerky. Again, they use a different cut of meat so you can tell because it's the brisket, it's a lot more flexible than that other cut of meat was. Also, because it's a brisket, it has more marbling throughout, so they had a higher fat content in the meat. Brisket has a higher fat content throughout so it's got that marbling. Having tried this one, it's very tender and it's really, really good. I'm going to give Smokehouse Jerky Company a ten on a scale of one to ten. I think it's a very good jerky, it's tender and the marbling adds a lot. When you don't have a marbled meat, it can be a little bit more tough of a chew. But this one, because it's marbled like that, it's very tender and that additional fat adds a lot of flavor to the jerky. The cracked pepper flavor comes through, the basic soy sauce comes through.
Both of these companies did a great job on their jerkies. Let's go with a ten on Smokehouse Jerky Company and a nine for Oregon Trail only that it was little bit thicker, a little tougher, but still excellent. So, next time on the Jerky Wrangler, let's enjoy some more brands.
Visit their websites: SmokehouseJerkyCo.com – Oregon Trail Jerky