What is Beef Jerky?
Unsure of what Beef Jerky really is? We can't speak for all jerky manufactures – but Jim's Jerky is Australian Owned & Made and we want you to be sure about what exactly our product is! What's beef jerky?
What's beef jerky? A cowboy snack? Nope.
Tough as leather? Nope.
A snack only for men? Nope.
Jim's Jerky is a 100% Australian owned and produced product and were here to help you fall in love with your new favorite snack.  Want to know what beef jerky really is?  Beef Jerky is tender top-side steak, trimmed of all the fat, spiced with tantalizing spices.  Then air dried for 20 hours, with all the moisture removed your left with a chewy, lean protein yummy flavored steak.  Okay so jerky isn't winning any beauty contests but put it in your mouth and chew and chew let the flavors release and enjoy your new healthy snack.  Don't believe us? This is what real people have said.  Best snack ever, pretty darn tasty, one of life's luxuries, awesome chewy treat, tasty healthy and addictive.
Not only that, enjoy it any time any where.  Introduce yourself, your family and your mates to Jim's Jerky today!  Check out all the flavor sensations and get them delivered freight free.  Found your new snack that taste good on the lips and won't stay on your hips?  Your welcome!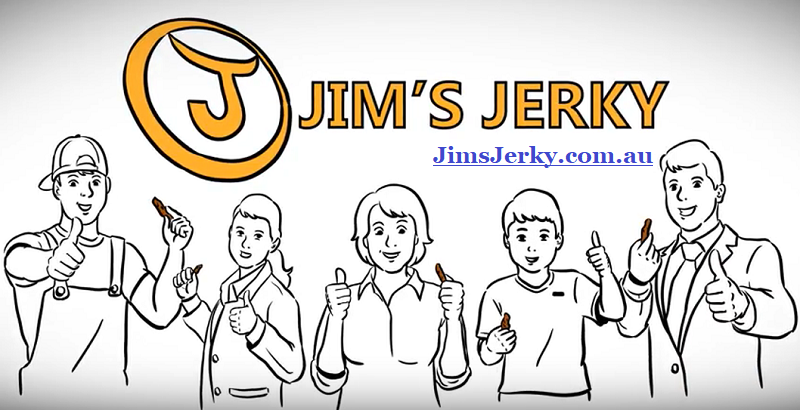 1/10805 Warrego Hwy, Charlton QLD 4350, Australia +61 7 4630 4420
From Jim's Jerky Site: To this day, it's still a hands on family affair. Jim and his team select only the finest cuts of meat skillfully hand slicing and spicing the steaks, then naturally drying the jerky to absolute perfection. It takes time… a lot of time, but everyone knows the best things come to those who wait!  What's beef jerky?

---
Jerky UP! – The Craft Jerky Directory
About Us – Jerky Brands – By state – Canada – Add My Company – Jerky of the month
Jerky Up – Advertise – Contact Us – privacy policy – Box 534 Show Low, AZ 85902