Uncle Andys Jerky
Inspired by the craft beer industry, Uncle Andys Jerky utilizes honest ingredients and offers unique & tasty beef jerky flavors
Coupon Code: Use jerkyup10 for your coupon code at checkout and get 10% off your order
Our Flavors:
Bandito Loco's Spicy Coffee – Lumberjack Maple Bourbon – Southern Gent Lemon Mint – Tex's Tangy BBQ
About Us:
The vision for Uncle Andy's Jerky was born late in the Fall of 2012 with a credit at a local hardware store. Never having been a fan of jerky, Andy used the store credit for a meat slicer and decided to try to make batch of his own.  Combining his favorite aspects of different jerky's to create the first 4 flavors.  Inspired by the craft beer industry, Uncle Andy's Jerky continued to experiment and evolve, exploring the possibilities of what jerky can be. Through the journey Andy strove to become as educated as possible on the process and every ingredient used in jerky production.  Not wanting to use ingredients strictly for marketing catchwords, He adopted the term "Honest Ingredients." Choosing ingredients based on environmental impact, sustainability, accessibility and cost.  Making the decision on what we are comfortable eating and sharing with our customers.
Retail Locations:
Store Locator
Contact Us:
Info@uncleandysjerky.com – (970) 430-6829
Social Media:
FaceBook/UncleAndysJerky – Twitter/UncleAndysJerky – Instagram/uncle_andys_jerky
Uncle Andy's Jerky
Best Beef Jerky Review – Uncle Andy's Jerky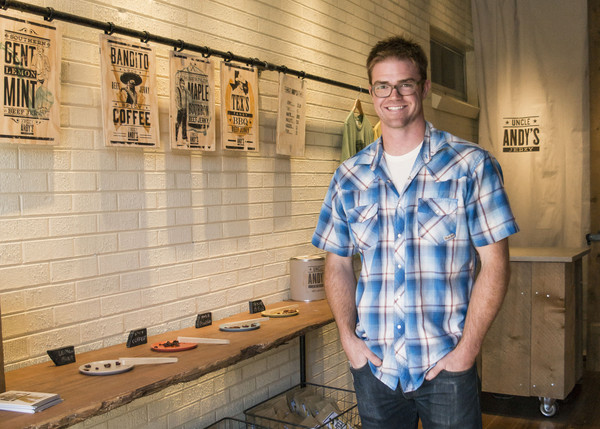 ---
Variety Is The Spice Of Life!
About Us – Jerky Brands – By state – Canada – Add My Company – Jerky of the month
Jerky Up – Advertise – Contact Us – privacy policy – Box 534 – Show Low – Arizona – 85902