Topanga's Finest
California's finest jerky,  for over 20 years we have been developing Topanga's Finest Gluten-Free Beef Jerky as a family recipe.
Our Flavors:
All Natural – Buffalo Blazin' Chicken Chunks – Old Fashioned Maple Bacon – Spicy Sriracha Bacon – Orange Teriyaki – Spicy Sriracha – Teriyaki
About Us:
The first beef jerky I ever tasted came from a jar at the local liquor store. Once I tasted it, I was hooked, buying a jar at a time, savoring the rich beefy flavor and washing it down with a bottle of Delaware Punch – am I dating myself? The thing is, this was the ONLY brand I liked. Other jerky brands I would try were too sweet or just too awful. Then it happened; one day, it was no longer available…
Retail Locations:
Northridge Farmer's Market – The Collection Farmer's Market – Calabasas Farmer's Market – Channel Island Farmer's Market
Contact Us:
Topanga's Finest 22286 Ybarra Road Woodland Hills, CA. 91364 – (818)314-2999 – info@topangasfinest.com
Social Media:
FaceBook/topangasfinest – Twitter/TopangasFinest – Instagram/TopangasFinest- Pinterest/topangasfinest
Topanga's Finest
Best Beef Jerky Review – Topanga's Finest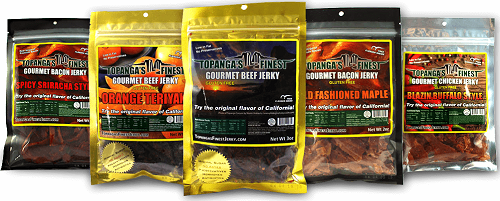 ---
Variety Is The Spice Of Life!
About Us – Jerky Brands – By state – Canada – Add My Company – Jerky of the month
Jerky Up – Advertise – Contact Us – privacy policy – Box 534 – Show Low – Arizona – 85902