Think Jerky
Healthy Jerky by famous Chefs.
Coupon Code: Use THINKUP for your coupon code at checkout and get 10% off your entire order
Our Flavors:
1. Sriracha Honey Free-Range Turkey Jerky by Chef Gale Gand
2. Ginger Orange Grass-Fed Beef Jerky by Chef Gale Gand
3. Sweet Chipotle Grass-Fed Beef Jerky by Chef Matt Troost
4. Thanksgiving Free-Range Turkey Jerky by Chef Laurent Gras
About Us:
We are the first healthy jerky company to only use sustainably-raised proteins, with restaurant quality ingredients, in recipes by famous Chefs.
Chef Laurent Gras | Three-Star Michelin Chef
Chef Gale Gand | Food Network Host
Chef Matt Troost | Farm-to-Table Expert
Retail Locations:
You can place orders 24/7 at:  www.ThinkJerky.com
Contact Us:
hello@thinkjerky.com
Social Media:
FaceBook/ThinkJerky – Twitter/Think_Jerky – Instagram/thinkjerky
Think Jerky
Best Beef Jerky Review – Think Jerky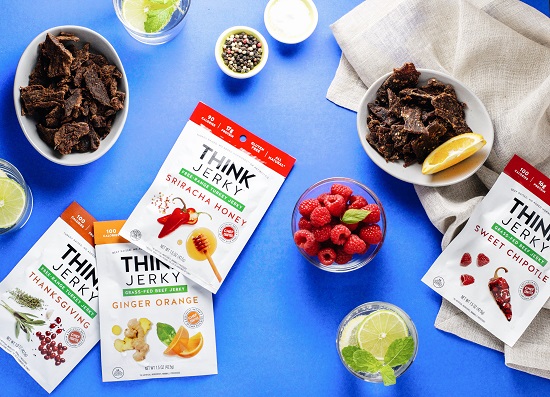 Stories About Think Jerky:
http://wgntv.com/2015/08/18/midday-fix-chef-gale-gand-and-think-jerky-founder-ricky-hirsch/
Eater: http://chicago.eater.com/2015/7/1/8880027/trotter-project-event-july-13-billy-dec-co-hosts-tv-show-july-9-more
Bourbon & Banter http://www.bourbonbanter.com/product-reviews/think-jerky-review/#more-7383
http://www.chicagobusiness.com/article/20150710/BLOGS09/150709822/what-would-jerky-%20%20created-by-a-top-chef-taste-like#st_refDomain=t.co&st_refQuery=/NWwt0iO3Rh
---
Variety Is The Spice Of Life!
About Us – Jerky Brands – By state – Canada – Add My Company – Jerky of the month
Jerky Up – Advertise – Contact Us – privacy policy – Box 534 – Show Low – Arizona – 85902