Your Very Own Beef Jerky Label – Private Label Jerky
(PLEASE NOTE: JerkyUP.com is an online DIRECTORY for craft beef jerky brands/companies, we DO NOT provide private label products, the brands listed below do. scroll down to see the companies you need to work with).  Jerky UP does not make and or sell anything! Including beef jerky. The companies listed below do…
The companies listed below are private label jerky manufactures.  They have the facility, equipment and the know how to put you in business selling America's new healthy snack, beef jerky.  Many have connections to label companies so you are not left on your own looking for labels and then spending time and money getting the labels to the jerky manufactures to put on your bags.  Many have USDA inspectors at their plants everyday, (a USDA inspected facility is big money to get started).  This is a huge plus for a small beef jerky company just trying to get started.  Are you thinking about starting a beef jerky company?

Private Label Jerky
Blue Valley Brand – We currently process meat and private label for the beef jerky industry.  2312 N 6th St, Beatrice, NE 68310 – (402) 230-9296
Boyd Specialties – Own The Label, premium meat snacks!  1016 E Cooley Dr, Colton, CA 92324 – (909) 219-5120
Farview Farms Meat Co Inc – We are a USDA inspected facility that provides the service of private labelling beef jerky and other meat snacks.  6325 NW Topeka Blvd, Topeka, KS 66617 – (785) 246-1154
Great Jerky – Private label beef jerky is our specialty! Have you ever wanted to start your own beef jerky business? We can help!
Jerky Junction – We now offer Private Label for your company. We offer our proven recipes with your label or your recipe.
The Classic Jerky Company – Our beef jerky comes from grass-fed, open-range cattle exclusively.  21655 Trolley Industrial Dr, Taylor, MI 48180 – (800) 644-0445
The Meat Makers – If you are interested in launching a private-label nutritious Beef Jerky we can help You accomplish this easily.
Stoney Point Beef Jerky – Providing Private label beef jerky for Over 20 companies products sold in all 50 states.
Sturgis Meat Services – The Official Site of Sturgis Jerky and Sturgis Meat Service.  2250 Park Ave, Sturgis, SD 57785 – (605) 347-2626
Texas Best Beef Jerky – We will use your private label and package our delicious beef jerky using your name!
---
Private Label Jerky
Are you thinking of starting a company selling a healthy beef jerky snack? What better way to greet every day than by striving to accomplish your jerky dreams? Starting your own beef jerky business can be very rewarding, but it's not always easy to accomplish, and it often requires a substantial investment. There is a lot of competition in the field, even beyond the heavy hitters, so it can be tough finding the kind of success you need in order to earn a good living at it. Many companies start out with a side business, by creating a homemade recipe in their own kitchen, and then they might move on to using third party handlers for manufacturing.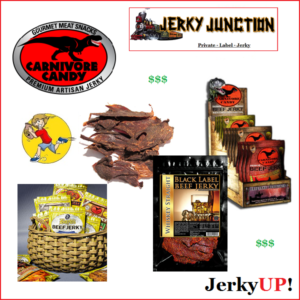 Small Business
In order to minimize the impact of all the state and federal inspection requirements, small businesses can hire an inspected meat processing facility to make and package the jerky. These facilities can make your jerky based on your own personal recipe or with an in-house recipe, and they can help with sourcing beef specifically to your expectations. Within the private label jerky business, these facilities can help from start to finish, from processing the beef to package the jerky with your own label on it. When the brand begins to grow, going this route can be greatly beneficial in handling the increased sales. Knowing what label companies to use is also useful, to help ensure you are not spending all of your time on designing and creating labels, or worrying about getting them to the manufactures.

Marketing Your Product
Figuring out where to sell your jerky is not always a simple task. It can be quite difficult to get any major chain store to sell your jerky right away or even at all. Often times, small jerky companies will begin by selling their products at local Farmer's Markets in order to find stable customers. Finding and growing an audience for your brand is an integral part of expanding your beef jerky business. Social media can be integral for this part of the process. Create an online following to help grow your brand. Having success with private label jerky begins with dedication. In order to gain the best advantage, do your research on how to start a beef jerky business. Once you refine your recipe, find the best manufacturing partner, and find reliable distribution, you will be well on your way to making a comfortable living selling your tasty beef jerky to the world.
---
Variety Is The Spice Of Life! – Beef Jerky Brands
About Us – Jerky Brands – By state – Canada – Add My Company – Jerky of the month
Jerky Up – Advertise – Contact Us – privacy policy – Box 534, Show Low,  AZ 85902