Pap's Beef Jerky
The tender moister beefier beef sticks and beef jerky! Pap's beef jerky
Declare your meathood!
Our Flavors:
Pap's beef jerky is 100% USDA inspected American beef thinly sliced and marinated in our proprietary recipes and slow cooked to create uniquely tender and savory flavors… Blazin Cajun – Hot – Mild – Pitmasters Barbecue
About Us:
Pap's was founded by Rick Waldon who grew up working in commercial kitchens and spent many years in the snack food industry.  While in the snack food business Rick began looking for better genuine beef jerky and beef sticks to sell his retail customers and in the process discovered that the type of premium beef products he was looking for weren't readily available.
Retail Locations:
Coming Soon!
Contact Us:
Junction City, Kentucky 40440 – (859) 854-3438 – info @ papsbeefsticks.com
Social Media:
FaceBook/Papsbeefsticks – Twitter/Papsfoods – Instagram/- Pinterest/
Pap's Beef Jerky
Best Beef Jerky Review – Pap's Beef Jerky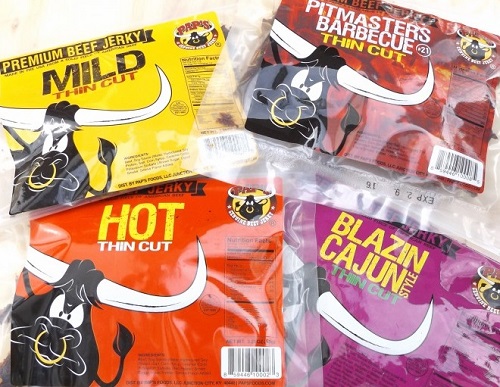 ---
Variety Is The Spice Of Life!
About Us – Jerky Brands – By state – Canada – Add My Company – Jerky of the month
Jerky Up – Advertise – Contact Us – privacy policy – Box 534 – Show Low – Arizona – 85902