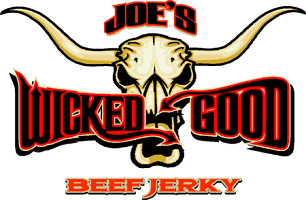 Try our natural Beef Jerky today! This protein rich snack is great for Paleo diets
Joe's Wicked Good Jerky
We offer four unique flavors of Beef Jerky; Sweet 'N Spicy, Peppered, Regular Joe and Joemama's Hot.  We use a local marinade from Chico, California for our Regular Joe and Joemama's Hot.  This marinade is very unique in that it was originated from the kitchen of Basque Norte Restaurant in 1975 and is now produced by Mooney Farms, also in Chico, California.  Our recipe for the Sweet 'N Spicy and Peppered is similar in the marinades we use but the spices are very different.  A combination of a sweet marinade and Kikkoman Soy Sauce, these recipes are "Top Secret."
Being from Redding, California, which is located in the Northern part of the state.  There are two volcanoes, Mt. Shasta and Mt. Lassen, and a ton of outdoor activities you can do.  Anywhere from fishing, hiking, water sports, river rafting down the Sacramento River and many others, you get hungry and Beef Jerky is the perfect snack for you!
Coupon Code: Use JERKYUP and get 10% off your order  of $20 or more
Our Flavors:
Peppered – Sweet 'N Spicy – Joemama's Hot – Regular Joe
About Us:
Joe's Wicked Good Jerky is distributed out of Redding, California and has been in business since March 2015.  Owned and operated by Joe Nixt and his wife Traci, these recipes were created solely by Joe Nixt and he has been making them for over 20 years.
Joe began making Beef Jerky in the late 1980's.  He made small batches of Sweet 'N Spicy and Peppered and gave out over the years while golfing, boating, traveling and just hanging out with friends. He has always wanted to start his own Beef Jerky business and last year he and his wife committed to it.
Our beef jerky is manufactured at an offsite USDA-Inspected and approved facility and wholesale meat company located in Rio Linda, California, USA.  Our beef jerky is an extra-lean cut of top round beef produced and packaged with the HIGHEST quality meat products available and the flavor is bold and unique. We pride ourselves on the best quality service, whether you place an order online or we are servicing stores.  We guarantee you will enjoy our jerky!
Retail Locations:
Joe's Wicked Good Jerky Store Locations
Contact Us:
1095 Hilltop Dr, Redding, CA 96003 – (530) 356-0535 – Fax# (530) 243-7212  –  Email: Traci @ Joeswickedgoodjerky.com  –  Business Hours: Monday – Friday 8 am – 5 pm
Social Media:
FaceBook/JoesWickedGoodJerky  – Instagram/joeswicked
Joe's Wicked Good Jerky
Best Beef Jerky Review – Joe's Wicked Good Jerky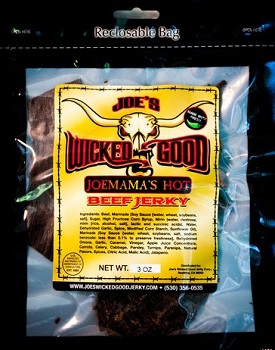 ---
Variety Is The Spice Of Life!
About Us – Jerky Brands – By state – Canada – Add My Company – Jerky of the month
Jerky Up – Advertise – Contact Us – privacy policy – Box 534 – Show Low – Arizona – 85902