Country Archer Beef Jerky
Video Review of Country Archer
Welcome to the Jerky Wrangler! You know when you have a beautiful day like this, mountains full of snow, a person just wants to get out of the house, get done from work early and head out to the hills. And when you do that, what do you want to take with you? Well, you'll want to take some jerky. Today we're going to have a showdown between two flavors of a particular brand. We have Country Archer beef jerky here in the Cracked Pepper and Original, and we're going to do a little taste test between this brand's flavors. Let's go ahead and try the Cracked Pepper.
Now, having tasted the Cracked Pepper, one thing that came through fairly prominently was the soy flavor, and also that it was on the sweet side. That's probably because brown sugar is the main ingredient, and also pineapple juice is another main ingredient here. It's almost slightly, I would say, like a Teriyaki kind of flavor. It does have the large cracked peppers on it, but because of the strong sugar flavor and the soy sauce it's kind of a residual flavor. It's really not as prominent as I thought it would be, with those nice big cracks of pepper on there, but it is good.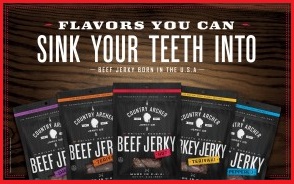 And both these jerkies do not use any preservatives or nitrates, which we really like. So, let's go ahead and give the Original a try now. Now having tried the Original, what's interesting is, even though it has a finer grade of pepper, the pepper came through pretty well on the Original without it having those larger pieces. What's interesting too is that the Original also has Worcestershire sauce. Now, that's a nice flavor. It really compliments the beef, and it kind of cuts down the heaviness of the soy sauce. So, I really enjoyed it. And with both of these, it's a quality jerky. They're very nicely made, good cuts of meat, and made in the USA, so we can count on the quality that way. So, really enjoyed it.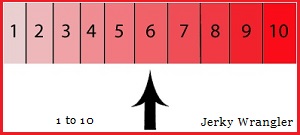 We're going to go ahead and grade the Cracked Pepper, and we're going to give it a six. It's better than average, but it was a little heavy on the soy and the sugar. And we're going to go ahead with the Original, and it's going to score in at an eight. Really nice, good quality meat, and it tasted great with a nice blend of flavors, especially with that touch of Worcestershire sauce.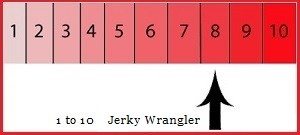 Anyways, next time you're headed up to the hills, Country Archer beef jerky has a couple of quality flavors here that can really add to your trip. Have a good day, and see you next time on the Jerky Wrangler!
Country Archer Beef Jerky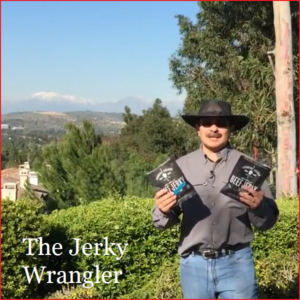 Country Archer