Chef's Cut Chicken Jerky, buffalo style
Welcome to The Jerky Wrangler: Chicken Jerky
I'm up here enjoying the beautiful mountains in San Bernardino National Forest. I've got some beautiful surroundings and it's a gorgeous day. Of course you know when you're in beautiful places you have to have the jerky.
Chef's Cut:
Today we have Chef's Cut Chicken Jerky and it's their buffalo style jerky. What's nice about this, you can see this piece here, this is a cut from a piece of chicken. It's not chopped and formed, they sliced it off the breast meat and it looks really nice. It's got an orange coloring to it and it's not artificial colors, it comes from the different spices they use. They use red peppers, some vinegar seasoning and so on. A little bit of color is the caramel color, so it's not artificial at all even though it looks pretty bright orange.
Let's go ahead and try this and see if it really tastes like buffalo wings. Having tried the jerky, I can tell you it's a very dry jerky. It's leaves a little bit of residual on your fingers because of the spices and the powder, but it's not extreme, not anything that's going to necessarily make a mess of anything. I thought it was really good, it tasted pretty much like a buffalo wing. Like if you had a dry buffalo wing, this is probably what it would taste like. I think Chef's Cut does a really good job. They don't need to use any preservatives, no sodium nitrate, no monosodium glutamate, it's a nice type of jerky.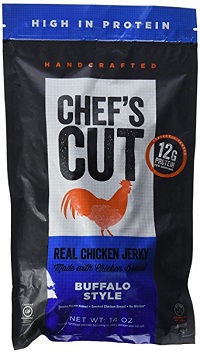 Now, for me personally, because it's chicken, I don't know if chicken is something that I would have all the time like a jerky. I really like beef, I like venison, I like those types of meat instead. But, if you don't want beef, you want chicken, this will definitely satisfy your jerky cravings. It's really good, let's give it a solid nine on a scale of one to ten. Chef's Cut, keep on making real jerky, we enjoy it.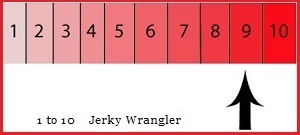 Thank you for watching The Jerky Wrangler and don't forget to subscribe. YouTube: The Jerky Wrangler Also checkout other video reviews of Chef's Cut Jerky from the Jerky Wrangler: Chef's Cut Chipotle Beef Jerky