Gourmet beef jerky boosting bold, unique flavors
Captain Jake's Jerky
Whether you like a high protein snack after a workout, hiking, camping, spending the day on the beach or enjoy a healthy snack for a road trip, Captain Jake's Jerky has the perfect snack for you.
Our Flavors:
Classic Twist, Korean Sesame, Mesquite BBQ, Hearty Chili
About Us:
After giving his jerky to family, friends and anyone else willing to try it, Scott and Greg received overwhelmingly positive feedback. People have even stopped in the middle of the road to request more jerky. Greg and Scott decided to start their own beef jerky company and Captain Jake's Jerky was born.
Retail Locations:
Blystone Farm, Capital City Chrome, Car Quest Auto Parts, Casey's Dry Goods, Celebrate Local, Delaware Food Mart, 5 Bean Coffee, The Foodery, Harvest @ The Woodward, Independence Seaport, McFarlan's Market, Museum Market, Parkway Corner Deli, Pataskala True Value, Roger Wilco, Salina Wine & Liquor, Wine Warehouse
Contact Us:
P.O. Box 1648 – Reynoldsburg, Ohio. 43068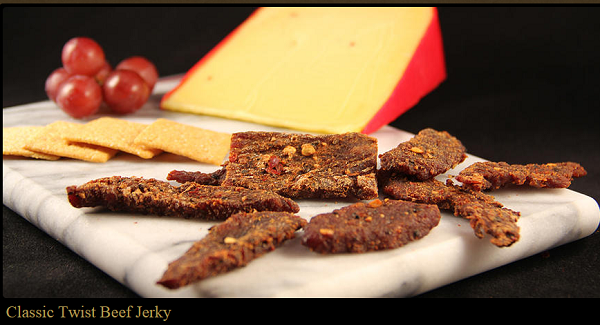 Captain Jake's Jerky
Best Beef Jerky Review – Captain Jake's Jerky
---
Variety Is The Spice Of Life!
About Us – Jerky Brands – By state – Canada – Add My Company – Jerky of the month
Jerky Up – Advertise – Contact Us – privacy policy – Box 534 – Show Low – Arizona – 85902