The Beef Jerky Outlet Story
From Humble Beginnings to: Slap Ya Mama!!
By Paul Lyons, COO, Beef Jerky Outlet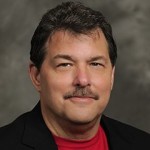 Jerky is hot stuff, and I'm not just talking about flavor. With the birth of the blog you're reading right now, there's no denying that jerky has earned a place in the hearts–and stomachs–of people across the nation. For some of us, jerky is not just a snack, it's a passion. For others, such as myself, it's much more than a passion. It's a successful business.
Beef Jerky Outlet The Story:
Beef Jerky Outlet is known as THE place to shop for jerky connoisseurs. Each of our franchised stores offers about 200 varieties and sizes of Made-in-the-USA jerky, and we're known for our selection of unusual, exotic and flavorful offerings along with our best-selling traditional flavors.
Our retail franchise operation achieved 1000% growth over the last 24 months, with 42 operating stores and an additional 70 scheduled for opening. Entrepreneur magazine rated Beef Jerky Outlet #22 of the 75 Fastest Growing Franchises. How'd we get here? I often wonder that myself. What's our recipe? As with many successful businesses, we started from humble beginnings…
As far back as 2003, I was distributing beef jerky product, and my partner (and now President of the company) Scott Parker opened his first store in Tennessee back in 2006. In 2007, I opened my first store in Dundee, Michigan. In early 2010, Scott and I decided to join forces, buy the rights to the Beef Jerky Outlet name, and start a franchise company. We knew, after years of distributing and selling beef jerky, how big this business could become. As a team, we felt we could create something special, something big. In our wildest dreams, we could not have predicted the incredible growth and fanatical following that Beef Jerky Outlet currently enjoys. It's awesome—and humbling. We're currently operating in 18 states with 42 stores, and our 2014 sales were approximately $15 million.
If you ask me, our unique offerings and quality product are the keys to our success.  The jerky sold in our stores is in no way similar to the mass market product sold at convenience and grocery stores. Those products have many chemicals and preservatives added to give an artificially long shelf life, whereas Beef Jerky Outlet products are made in smaller batches and replenished as they are sold. At Beef Jerky Outlet, we provide a speed to market and a freshness factor that can't be beat. In addition, we're able to provide our stores with more of the product that the local market prefers. For example, in Michigan, customers prefer a more tender beef jerky, whereas in Tennessee, a drier, chewier product is what many customers want. All of our stores offer up to 200 different styles and varieties of jerky to satisfy the tastes of any customer.
Beef Jerky Outlet sources its jerky from two main manufacturers who provide 90% of the product. We distribute several products that are proprietary to Beef Jerky Outlet, including our wildly popular Slap Ya Mama crawfish boil-flavored beef jerky. Our newest product, a jerky seasoned to taste like prime rib, is a top seller at many of the stores.
The franchise model has taken off, with explosive growth in the past four years. The ease of starting and owning a Beef Jerky Outlet franchise is one key factor that has really paved the road to success. You only need a few employees—in some stores there are only two! —and initial investment is low. It's a simple process. We provide the inventory and help set up the store. All our franchisees have to do is provide a small investment, secure a lease on a property, and have a passion for jerky to share with their customers.
In fact, Beef Jerky Outlet franchisees often start out as customers who love the product and become enthusiastic about sharing their passion with others. We make sharing that passion easy with a straightforward franchising process and plenty of corporate and marketing support. One recent marketing investment that is already paying dividends is the creation of "The Experience," an expandable trailer for sales and exhibitions of Beef Jerky Outlet products.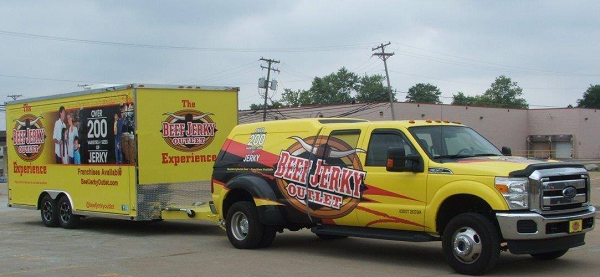 The Experience is a mobile, mini-sized Beef Jerky Outlet retail store. We use it at franchise and other conventions to showcase not only our product but also the ease of setting up a franchise business. With its bright colors and steel and aluminum details, it stands out in a crowd. Built by Triune Specialty Trailers, The Experience is made to easily fit into an exhibit space and can easily be set up by one or two people. At BJO, we love to make things easy—and fun. It's our business model, and it works. We're constantly developing new and innovative products and marketing ideas to keep the business fresh. (Nobody likes stale jerky, right?)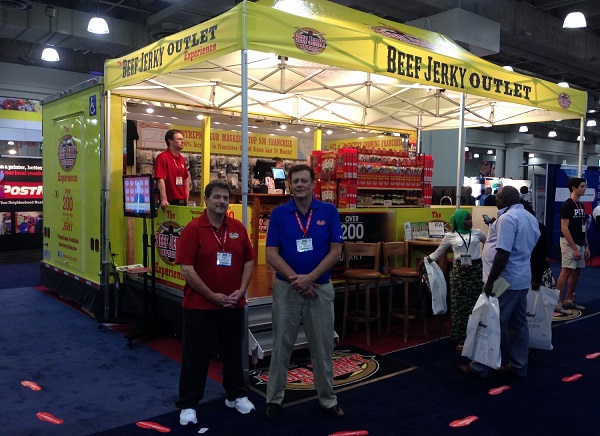 There's much more in store for Beef Jerky Outlet. You'll probably see a franchise open near you—wherever you are! Pop in, enjoy some free samples and talk to us about our favorite subject—the sweet taste of jerky.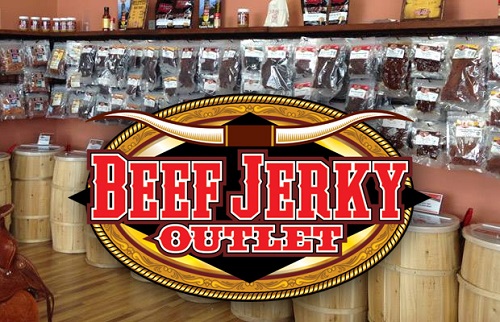 ---
Variety Is The Spice Of Life! – Beef Jerky Brands
About Us – Jerky Brands – By state – Canada – Add My Company – Jerky of the month
Jerky Up – Advertise – Contact Us – privacy policy – Box 534 – Show Low – Arizona – 85902